From the convenience and privacy of your own home get pampered with body contouring and face-lifting

treatments.

312-687-1983 for scheduling and questions, please leave a VM or text for immediate attention.

Appointment Expectations: * Technician brings massage table and equipment, nothing else is required.
* Minimum $500 per visit, can be used for multiple people.
* BEAUTY PARTIES: invite your friends over for a body contouring party and receive a free treatment.
* To secure your appointment a deposit of $50 will be required towards your services, returnable with a
48 hour cancellation.
HIFU Face Lifting and Body Contouring
HIFU stands for High Intense Focused Ultrasound waves. Since the 1930's the medical field has been
using ultrasound for therapy. HIFU is the healthier alternative to chemicals and radiation
for medical treatments approved by the FDA. The total number of procedures performed has
increased 64.8 percent between 2012 and 2017.

HIFU for Skin Tightening

In 2009, HIFU was approved by the Food and Drug Administration (FDA) for brow lifts. The
device was also cleared by the FDA in 2014 to improve lines and wrinkles of the upper chest and
neckline. HIFU is a non-ablative skin tightening technology that reduces wrinkles and skin
sagging with minimal downtime, discomfort, and risk of adverse events, these are
considered "off-label" uses for HIFU. So far, HIFU has been found to be a promising treatment
that could replace face lifts, and Botox especially in younger people who don't want the risks and
recovery time associated with surgery or painful injections of Neurotoxins that can cost a fortune
overtime breaking down your natural anti-aging defense mechanism.
** HIFU won't work as well for people with more severe cases of sagging skin.
** HIFU affects the same tissue layers that surgeons pull tight in a face-lift.

HIFU for Facial & Body Contouring

While the procedure is used for overall facial rejuvenation, lifting, tightening through trials it was
discovered that it's superior power to penetrate through the SMAS skin layer was able to also
destroy fat cells. This is how HIFU was discovered for body contouring.
Technology Used
All treatments are done by either using V-MAX (360 degree point), single-row HIFU or (multi-line)
Liposonix. This will be determined by your technician at the time of your appointment depending on fat
measurement and thickness of skin. Results begin immediately and continue for 18 – 24 months. Clients can achieve their goals by scheduling monthly treatments until desired results are met.

Single row HIFU and VMAX are the leaders in the anti-aging Medispa category due to their immediate long-lasting results in reversing skin aging and sagging with no pain or down time. This is the healthier and best choice for your skin and body. HIFU has been widely used internationally preferred over Ulthera and Thermage and is less risky and costly with no unforeseen surprises as in surgical face-lifts.

Liposonix has a circular custom contour head for more ultrasound waves per shot. The treatment
head emits 24 energy lines in each area. The 24 energy lines in a single shot has 576 focus points,
which accurately and completely target the fat. The fat tissue is destroyed immediately during
the treatment, and the body circumference is reduced by 2-6 cm. The fat metabolism is completed within 8-12 weeks. For more fat reduction monthly treatments are suggested.
Treatments, Prices, Results
Skin Tightening
Collagen Peptide with Hyaluronic Acid Facial HIFU Treatment – $200
Immediate results will show skin tightness, brightness and face contoured for a more youthful look.
Service includes: collagen peptide and hyaluronic mask, collagen eye and lip mask, HIFU facial, post treatment hydration serum. First time clients receive a custom hairband. Additional hydration masks and products can be purchased.

Collagen Peptide and Hyaluronic Neck Tightening Treatment – $150
Immediate results will show skin tightened, lines smoothed, even skin tone.
Service includes: collagen peptide and hyaluronic serum penetrating deeply into the SMAS layer and HiFU
treatment. First time clients receive a custom hair band for your morning beauty routine. Additional serum can be purchased to keep skin hydrated for the week.

Anti-aging Hand or Decolletage Treatment – $75
Service includes: pre-treatment collagen and Hyaluronic serum application, HiFU treatment, post treatment
skin tightening serum.

Body Contouring .
Immediate circumference reduction of 2 – 6 cm with skin tightening, smoothness and brightness. Results continue as body metabolizes dead fat cells for 6 – 8 weeks. Services include: collagen peptide and hyaluronic acid prep with HIFU treatment.

Full Abdomen – $175
Back – $200
Full Arms- $250
Under Arms only – $150
Front Legs (thigh and legs) – $250
Whole Legs (front and back including thigh, inner, legs) – $500
Buttocks – $175
Hips, inner thigh or bra fat only – $150
Text HIFU to 312-687-1983 to see our Before & After Pics
Q & A
How do I know if I'm a good candidate for HIFU?
In general, the procedure works best on people older than 30 with mild-to-moderate skin laxity.
People with photodamaged skin or a high degree of loose skin may need several treatments before seeing
results.
Older people with more extensive photo-aging, severe skin laxity, or very saggy skin on the neck aren't good
candidates and may need surgery.
HIFU isn't recommended for people with infections and open skin lesions at the target area, severe or cystic
acne, and metallic implants in the treatment area.
What will I see after receiving a HIFU Facial Treatment?
● wrinkle reduction
● tightening sagging skin on the neck (sometimes called turkey neck)
● lifting the cheeks, eyebrows, and eyelids
● enhancing jawline definition
● tightening of the décolletage
● smoothing the skin
What are the proven results from medical research studies?
A 2017 study involving 32 Korean people showed that HIFU significantly improved skin elasticity of the
cheeks, lower abdomen, and thighs after 12 weeks.
In a larger study of 93 people, 66 percent of those treated with HIFU perceived an improvement in the
appearance of their face and neck after 90 days.
What is the average cost for a HIFU Facial treatment?
According to ASAPS, the average cost for a nonsurgical skin tightening procedure in 2017 was $1,707. This
is a drastic difference from a surgical facelift procedure, which carried an average cost of $7,562.
What are the risks of getting HIFU Facial Treatments?
While HIFU carries far fewer risks and costs than a surgical face lift, results may not last as long and
repeated procedures may be needed.
What are the risks of getWhat does HIFU feel like?
You may experience slight discomfort during an HIFU procedure. Some people describe it as tiny electric
pulses or a light prickly sensation.

If you're worried about pain, you may take acetaminophen (Tylenol) or a nonsteroidal anti-inflammatory
drug (NSAID), such as ibuprofen (Advil), prior to treatment.

Immediately after the treatment, you may experience mild redness or swelling, which will gradually recede
over the next few hours.
What should I expect at my appointment and after?
There's no special preparation needed before having an HIFU procedure. You should remove all makeup and
skin care products from the target area before treatment.
Here's what to expect at your appointment:
Your technician first cleans the target area.
They may apply a topical anesthetic cream before starting.
Then an ultrasound gel is applied.
The HIFU device is placed against the skin.
Using an ultrasound viewer, the technician adjusts the device to the right setting.
Ultrasound energy is then delivered to the target area in short pulses for roughly 30 to 90 minutes.
The device is removed.
If additional treatments are needed, you will schedule the next treatment.
While the ultrasound energy is being applied, you might feel heat and tingling. You can take pain medication
if it's bothersome.
You're free to go home and resume your normal daily activities right away after the procedure.
What are the side effects of HIFU Facial Treatments?
HIFU is considered very safe if performed by a trained and qualified professional.

The best part about this treatment is that you're able to resume your normal activities immediately after.
Some slight redness or swelling may occur, but it should subside quickly. A light tingling sensation of the
treated area may persist for a few weeks.

Rarely, you may experience temporary numbness or bruising, but these side effects usually go
away after a few days.
Better You Spas
Our Services
Med Spa and Wellness Services in Chicago, IL
Better you spas in Chicago, IL offers variety of med spa and wellness services. All procedures have no downtime and are non invasive.

Call

us for more information or schedule an

appointment

online.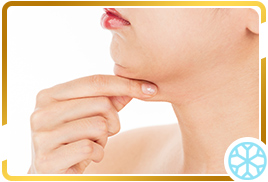 Shape & Sculpt Chin with a mini face-lift
Removes double chin while tightening skin & contouring face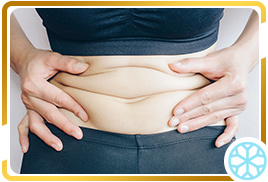 Cellulite removal and skin tightening
Cellulite removal and skin tightening anywhere on the body